Welcome to the ARNOVA & NACC Nonprofit Curriculum Library!
The goal of this collaborative undertaking is to provide an open central library of shared teaching resources for the development of course materials for nonprofit and philanthropic studies.
The Association for Research on Nonprofit Organizations and Voluntary Action is a diverse community of scholars, educators, and practice leaders that strengthens the field of nonprofit and philanthropic research in order to improve civil society and human life.
The Nonprofit Academic Centers Council is an international membership association comprised of academic centers or programs at accredited colleges and universities that focus on the study of nonprofit/nongovernmental organizations, voluntary action, and/or philanthropy.
We encourage ARNOVA and NACC members to upload course material they own, with the intent to share their work for review and replication with their fellow academics in order to strengthen the body of curriculum used and to advance the work of the Academy.
We encourage ARNOVA and NACC members to search the course materials using our filtering options:
Keyword
Topic
Instructor
Curriculum Type
Modality of Instruction
NACC Guidelines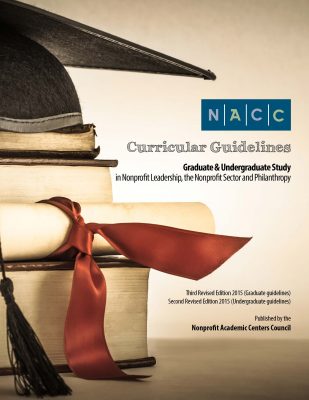 A Note on NACC Curricular Guidelines Search
Through this library you may search for material by topic identified as relating to one or more of the NACC Curricular Guidelines for Graduate and Undergraduate Study in Nonprofit Leadership, the Nonprofit Sector and Philanthropy.